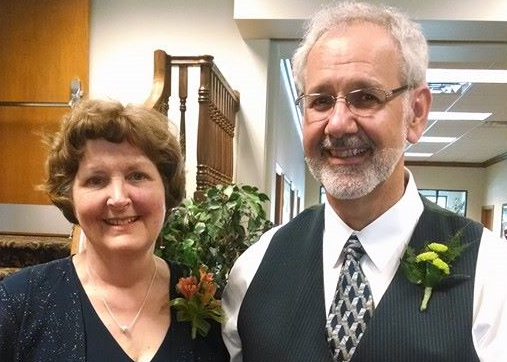 Pastor Douglas J. Zehr & Pastor Miriam R. Zehr
Doug and Miriam enjoy serving together in ministry and are delighted to be the pastoral team at Oak Grove MC. They have plenty of pastoral experience having shared ministry in three communities over the past 35 years. They were co-pastors of Brussels Mennonite Fellowship (1986-90); pastoral team members at North Leo Mennonite in Leo, IN (from 1995-2009); and have been at Oak Grove since 2009.
The Zehr team began their ministry at Oak Grove in May of 2009, Doug as lead minister and Miriam as associate minister with responsibilities for worship and education. Just recently, the Church Board offered a five-year extension which was accepted and will take the partnership until November of 2022.
Pastor Doug's ministry has engaged five church communities since 1975. He was licensed for ministry in 1976 and ordained in 1983 by the Mennonite Conference of Eastern Canada. Doug is a graduate of Emmanuel Bible College ('78), Eastern Mennonite College (BA, '78), Conrad Grebel College (MTS '94), Ashland Theological Seminary (D.Min '06). He has served:
Dungannon Christian Fellowship, Dungannon, Ontario (1975-77, 1980-1982)
Brussels Mennonite Fellowship, Brussels, Ontario (1980-1990)
Zion Mennonite Fellowship, Elmira, Ontario (1990-1994)
North Leo Mennonite Church, Leo, Indiana (1994-2008)
Oak Grove Mennonite Church, Smithville, Ohio (2009-present)
Pastor Miriam is a trained and experienced Secondary School teacher, serving at Western Mennonite School, Salem OR (1978-1980) and Rockway Mennonite Colligate, Kitchener, ONT (1991-1994), as well as numerous short-term assignments at various public schools in Ontario and Indiana.
Miriam is a 1978 graduate of Eastern Mennonite College (BS) and a 2018 graduate of Anabaptist Mennonite Biblical Seminary with a Master's in Christian Formation. She was licensed for ministry in 2011 and ordained in 2013.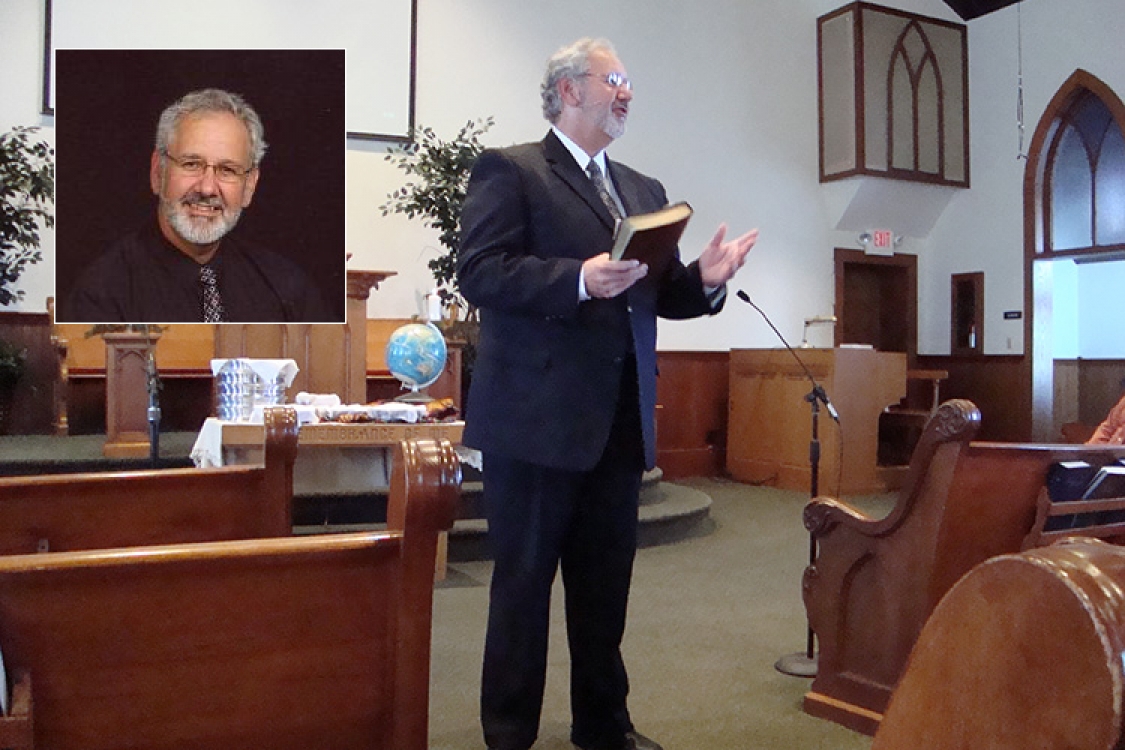 Pastor's Blog
Spring Activities
by DJ Zehr on 2019-03-20
Today, March 20th marks the beginning of Spring - YES!
At the Grove we have numerous activities that have appeal to many ages and interests in this season. Watch our calendar for changes and updates.

For the month of March, Outreach Commission members are inviting you and your family to create a Relief Kit - or two, for Mennonite Central Ccommittee (MCC) our international relief and development agency.
The list of items in the kits is posted on the blue barrels (or call the church office for more information).
Offering designations during March will be collected and sent to MCC to purchase more kits or to purchase buckets. Thank you for your help.
<> <> <> <> <>
Sunday, March 31, 6pm: Join Ryan Conrad and Pastor Doug for an evening of "Praise and Prayer."
<> <> <> <> <>
Lenten Journey . . . Prayer & Reflection: Join us Wednesday evenings, continuing through April 10, 6-7pm in the conference room for time of guided prayer.
<> <> <> <> <>
Manna for Many at Oak Grove:
Thursday, April 11 from 6pm-8pm & Friday, April 12 from 3pm-8pm
Mark your calendars and come when you can to join in the fun of bagging soup. There are ways for all ages to get involved.
Our goal is to raise $1,000 which allows us to put together 1,000 bags of soup.
The coin vortex will be in the lobby and designated donations can be put in the offering or sent tot he church office.
Thanks for your support!
<> <> <> <> <>
Community Seed and Plant Exchange

Saturday, May 4
10 a.m. to 12 Noon.
Bring your extra seeds and plants!
No Money exchanged.
Depending on weather either in the parking lot or the Fellowship Center
<> <> <> <> <>
---
Celebrating World Fellowship Sunday
by Pastor Doug on 2019-01-15
Sunday, January 20, 2019 we, at Oak Grove, are Celebrating World Fellowship Sunday with our global Anabaptist family. Every year on the Sunday closest to 21 January, Mennonite World Conference (MWC) invites its 107 member churches to join in a celebration of World Fellowship Sunday.
By MWC's count, the Anabaptist-Mennonite faith family includes 2,131,000 baptized members in 86 countries. Of that total, 69 percent, or 1,470,390 are members of the MWC.
World Fellowship Sunday is an opportunity to remind our communities of faith that we are all part of one body made up of many tribes, languages and nations (Revelation 7:9). It is an invitation to visibly proclaim that now there is no discrimination among us on the basis of race, social status or gender (Galatians 3:28). It is a special day on which to show that we are living a new life in a new society where we mutually support one another, carry those who suffer, serve the world and interdependently learn from one another what it means to follow Jesus.
On this day, we celebrate that, in Christ, and by the power of the Holy Spirit, the cultural and national boundaries that separate us have been overcome by the cross.
Each year, different churches that are part of our global community prepare guiding material that can be used for WFS. The theme for WFS 2019 is "Justice on the Journey: Migration and the Anabaptist Story", prepared out of the experience of our Latin American churches. The Anabaptist story is frequently one of migration and mission, experiencing the grace of God in leaving one place for another, and in welcoming the foreigner.
The worship themes vary from year to year, but the rationale for the timing of the event has remained constant – on 21 January 1525, a small group of Christians in Zurich, Switzerland, participated in a baptismal service that launched the renewal movement that we know today as Anabaptism.
As with the beginnings of every reform movement, the identity of the movement was not fully formed on that wintry day in 1525. Today, the Amish, Mennonites, Hutterites and a dozen other groups all claim the early Anabaptists in Switzerland among their founders.
Each of these groups can also identify other beginning points for their church.
The Amish, for example, trace their origins to a renewal movement around Jacob Amman in 1693.
The Hutterites first practiced community of goods in 1528, and did not adopt their name from Jacob Hutter until several years later.
One group vigorously opposed all such commemorations, insisting that the only appropriate marker for Anabaptist-Mennonite beginnings was Easter Sunday or, perhaps, Pentecost.
When we shift our attention to the global church, the question of "beginnings" becomes even more complicated.
Did the Anabaptist-Mennonite tradition in Java begin with the arrival of Pieter and Johanna Jansz in 1852; or with the indigenization of the church under the leadership of Tunggol Wulung a decade later?
Did the Meserete Kristos Church of Ethiopia begin in 1945 with the first Mennonite missionaries from eastern Pennsylvania? with a renewal movement called Heavenly Sunshine in 1962? or with the decision in 1965 to identify their church as "Christ the Foundation"?
Over the past century, most Mennonites of European descent have come to regard the 21 January 1525 date as almost sacrosanct; yet this event became the focus of historical veneration only relatively recently when Mennonite leaders from seven countries gathered in Switzerland in 1925 to coordinate relief efforts for Mennonite refugees in South Russia.
- Pastor Doug Zehr with information provided by Cesar Garcia, General Secretary; Gerald Hildebrand, North American regional representative; and Mennonite Church historian John Roth.
---
2019 Worship Theme Introduction
by Pastor Doug Zehr on 2019-01-10
Join us Sundays in 2019 for Worship!
JESUS: Every Story Whispers His Name.
A Bible like no other, The Jesus Storybook Bible invites children to join in the greatest of all adventures, to discover for themselves that Jesus is at the center of God's great story of salvation--and at the center of their own story too!
The Jesus Storybook Bible tells the story beneath all the stories in the Bible. At the center of all is a baby, the child upon whom every-thing will depend. From Noah, to Moses, to King David --- every story points to Him. He is the missing piece to the puzzle --- the piece that makes all the other pieces fit together. From the Old Testament through the New Testament, as the story unfolds, we will join the children of Oak Grove to engage the clues and piece together the puzzle.
Join us on Sunday, January 13, 10:30 a.m.
for the introduction to our 2019 Worship Theme
JESUS: Every Story Whispers His Name!
@ Oak Grove Mennonite Church
---
Why Do People Migrate?
by Charissa Zehr on 2018-11-10
Today thousands of migrants are moving through Central America and Mexico. The fear mongers are anxiously raising all kinds of issues in an attempt to protect their privilege.
Of course we need to protect our children.
Certainly we have limited resources.
Without question migrants should enter the country legally.
It is hard to comprehend but most migrants are people who don't WANT to flee their homeland . . . they believe they have no choice. And as hard as it may be to believe, they are coming to our southern border to walk through the port of entry and seek asylum. That is NOT ILLEGAL, but is actually a central function to the core values of the United States.
So, why do people migrate? Here is a recent article from the Mennonite Central Committee's Washington Office that offers some explanation.
Why do people migrate?
Reflecting the humanity of migrants
By Charissa Zehr
Sacrifice, bravery, survivor—these words kept running through my mind as I sat in migrant shelters in Mexico City and Tapachula, near Mexico's southern border with Guatemala. Hearing the litany of dangers people faced as they crossed highways, forests, deserts and borders to find safety and security, I was struck most by their courage.
I was reminded by our hosts at Voces Mesoamericanas, an MCC partner in southern Mexico, that most people don't migrate because they want to–they are resigned to it because they see no other option. At each shelter, we listened to the experiences of people who have risked their lives to leave the home they love. They have made sacrifices to seek a different life, facing a risky journey where many people seek to exploit travelers with few resources.
Mexico has become a destination country for migrants from all over the world. While Central Americans are still traveling to and through Mexico in large numbers, this is not the only migrant experience in Mexico. Shelters have seen a dramatic increase in arrivals from northern and western African countries, along with an uptick in people leaving the Middle East and Asia.
In 2016 Mexico's refugee assistance agency (COMAR) saw nearly seven times more applications than in 2013 and numbers continue to rise. The agency's overload of applications for asylum is exacerbated by limited staffing and funding.
People are on the move around the world and the reasons for migration are numerous and varied. Some people leave because of changing weather patterns and food insecurity due to global warming; for others it may be a dangerous neighborhood where gang recruitment is on the rise.
Many governments seek solutions that endeavor only to stop people from arriving. But without adequately addressing the factors that are pushing people to migrate, these solutions will be incomplete and unsatisfactory.
In many places around the world, as in the United States, fear of migrants is stoked when it is politically expedient. Words matter in the narratives we speak, share and tweet. The lives of real people hang in the balance of political spin.
Instead of using rhetoric that ignores the humanity of people who migrate, we can consciously choose to speak new life into the debates and reshape what people say and write around people migrating and seeking refuge.
As people of faith who want to see more just migration and refugee policies, we should speak with our government representatives in a way that reflects the spirit of migrants, including their determination to make a way even when it seems there is no way forward.
--Charissa Zehr is Legislative Associate for International Affairs at the MCC U.S. Washington Office.
This article appeared first at Thirdway where more of Charrisa's work appears regularly, in addition to that of a number of her colleagues from the Washington Office.
---
Bicentennial Homecoming and Harvest Home
by Pastor Doug Zehr on 2018-09-24
Harvest Home / Homecoming Sunday
Sunday, October 14, 2018
Join us for our annual Harvest Home worship which will conclude our Bicentennial celebration.
9:30 am Coffee Fellowship
10:30 am Worship - Guest Speaker: Mark Schloneger
Noon: Chicken BBQ with Congregational Carry-in
The 10:30 Worship Service will include dedication of
Bicentennial Comforters & Throws for MCC, Hospice & Aultman Hospital.
"Harvest Home Sunday," an autumn tradition at Oak Grove, had its beginnings when many members were engaged in farming. The season of harvest was a time of celebration and acknowledgment of our abundance and God's blessing in our lives. Sharing this bounty with those in need was also the purpose of this special Sunday. Members brought fresh produce from their fields and gardens and home-canned fruits and vegetables from their kitchens. These were collected at the church and then distributed to street ministries and food pantries.
Family and friends living out of the area have been invited back "home" to worship and enjoy the day together. A carry-in dinner has been held after the worship service. Fall decorations are a part of the tradition and add beauty to the church and fellowship hall.
As lifestyles, professions and food restrictions at distribution places have changed, grocery items and offerings of money have replaced the fresh and canned produce.
2018 Harvest Home Giving Opportunities
We thank God for our broader church connections, particularly in times of disaster and need. While Mennonite Disaster Service (MDS) responds to national disasters, Mennonite Central Committee (MCC) responds to international crises through their local connections around the world.
It is a year of tremendous needs – hurricanes, tornadoes, earthquakes, forest fires & flooding – have created destruction and pain in Puerto Rico, volcanic eruptions, California wildfires, Hurricane Florence in North & South Carolina, Typhoon Mangkhut in addition to continuing relief efforts in Texas, Florida, the Caribbean, Mexico, Nepal, India, Bangladesh, Peru and Columbia.
We invite you to designate your support for MCC, MDS, MCC Meat Canning in Kidron or for the Community Assistance Fund of the Oak Grove Outreach Commission. All designations will be honored and any undesignated gifts will be given to the 2018 Oak Grove Spending Plan.
Food pantry donations will be shared locally with People to People, Crown Hill Food Bank and the Salvation Army.
---
Peace Sunday 2018
by Pastor Doug Zehr on 2018-09-20
This coming Sunday, September 23, is a "Peace" focus day at the request of the Mennonite World Conference.
In light of this we are planning this Sunday's 10:30 am Worship as Internatonal Peace Sunday at Oak Grove. The message of the day is entitlted: "A Renewed Peace Church Welcomes the Stranger!"
In solidarity with our sisters and brothers around the world we will recognize the day and celebrate communion together. As part of our sharing at the Table of our Lord, we will share an opportunity to give to our Compassion Fund.
The Compassion Fund is a mutual aid fund which is available to the Spiritual Life Commission to assist with needs within our church family. Recent activity has depleted this fund. In the spirit of serving one another, as Jesus washed his disciples' feet, there will be offering baskets available. We will receive your above spending plan giving as we partake of the communion emblems.
Thank you for your prayerful preparation for participation in the bread, cup and service of our Lord Jesus Christ.
---
Instant Church Directory
by DJZehr on 2018-06-25
We are very excited about the developments of Oak Grove's NEW ONLINE CHURCH DIRECTORY AND APP!
Church members are invited to check out the new online church directory today. Available online through instantchurchdirectory.com or on your smart phones via the Instant Church Directory app found in your App Store.
To view on the computer or on the app, you will be asked to create a login using your email address (as it is entered in the directory – please contact the office if you would like your email address added to the directory so that you can use this feature).
After entering your email and creating a password, you will be sent an email with a confirmation link. You must open this email and follow the link before you can access the directory the first time.
Printed copies of the directory will also be available this fall. Feel free to contact Kelsey Troyer or Mary Ramseyer with questions.
We appreciate the hard work of the Fellowship & Service Commission and the delightful cooperation of all who had their pictures submitted for the new directory. Picture and contact information updates will now be quick and easy!
Thanks,
Pastor Doug
---
Legacy Churches Provide Contributions
by Levi Miller on 2018-05-12
Legacy churches provide many social contributions
By LEVI MILLER / Guest Columnist
This year 2018, the Oak Grove Mennonite Church near Smithville is celebrating its bicentennial.
The congregation's American story begins in 1818 when 11 Amish families of Swiss German origin had become landowners in Wayne County; they held worship services in their homes and barns. Their farms extended to the eastern border of what is now Wooster, and their first cemetery (Amish Plank Cemetery) can still be found just off Portage Road in the north end of Wooster.
During this same decade from 1810 to 1820, the Baptists, Brethren, Methodists and Presbyterians also had established churches in our two-county region. When the French aristocrat Alexis de Tocqueville traveled through the Americas a decade later and wrote of his observations in "Democracy in America" (1835), he was especially fascinated by these free churches.
The French count's insight was that the churches were an important part of civil society, which helped make a democratic republic possible. He credited these churches as providing important social glue: reigning in the selfish impulses of individualism and teaching habits of cooperation, charity, morality and civility. He wrote: "While the law permits Americans to do what they please, religion prevents them from conceiving, and forbids them to commit, what is rash or unjust."
Much has changed in 200 years, and in the past half-century these traditional denominations have been overshadowed in numbers and influence by younger evangelical and non-denominational churches. And all Christians and Jews need to share space with other religions and secularism. Still, in Wooster, Millersburg and the surrounding townships, however diminished, the legacy churches continue, and the effort here is to note their social contributions.
These historic churches teach the Christian tradition beginning with the Hebrews, the Christian story and their denominational variety often beginning in the Protestant Reformation now commemorating its 500th anniversary. If you want to sing or have your children sing international hymns from the medieval period to today, visit a legacy church.
If you want to join in an ancient prayer or confess the creeds (even your sins), your best chance is in a legacy church. Even the very architecture of the building (especially the windows) speak of the tradition, however much the remodeling with the possibility of a screen or a powerpoint in front.
Second, the legacy churches have resources for charitable giving; they serve the community and the world. When the Oak Grove members thought of observing their anniversary, they thought of service and are making 200 comforters or blankets for local and international charities.
The Wooster Trinity United Church of Christ serves daily breakfasts, with help from locals and College of Wooster students. Programs such as Habitat for Humanity or People to People are highly dependent on these churches whose members both volunteer and have access to funds, endowments and foundations.
Third, the legacy churches have social capital which traditionally they have shared with the young.
Several years ago, the Harvard social scientist Robert Putnam revisited his home community in Port Clinton to find out why many of his high school classmates succeeded. He discovered that classmates from poor families and minorities, had the church as a socialization resource. Youth mixed with the middle class and the well-connected, gaining access to schools, colleges, jobs and community. He wrote his findings in Our Kids (2015).
Finally, the legacy churches provide a cultural and political refuge, a kind of mediating space from the culture wars waged in our nation. Legacy churches have some experience in this mediating project because many are associated with denominational offices which have tilted to the left. But at a parish level, hardline political and cultural views are mediated, softened and even ignored for the sake of civility and community.
The legacy churches recognize that compassion, justice and love, are not the exclusive possession of one political party or cultural persuasion. In legacy churches, a deacon may believe poverty is best addressed by job creation -- sitting beside an elder who is optimistic about government programs. They worship and serve the same God, read the same Bible, sing the same hymns and join together for a coffee, a lunch or a fish fry.
None of this is to claim that the legacy churches' main purpose is to provide an institution in civil society, hence contributing to a democratic America. They would have a higher purpose such as: "to love the Lord our God with all our hearts and our neighbor as ourselves," or "to love God and enjoy him forever," or even "to deny ourselves, take up our cross and follow Jesus."
In our two-county area, the largest legacy church is the Amish who arrived in Holmes County in 1809, and generally make few social and political claims on the republic. And yet, few of us would deny that this humble church also makes a powerful social and political contribution to American cultural life.
Our family lives near Green Field Farms, a horse-driving cooperative which this year has an exchange representative from the African country of Chad. Along with tribal languages, he speaks French and Arabic and now English and Pennsylvania Dutch; his name is Chindebeya Deuzoumbe Alexis. If the Frenchman Alexis de Tocqueville would revisit us 200 years later, I think he would be smiling.
*****************
Levi Miller is a Wooster area resident who just finished his church's history, "Sketches of God's Faithfulness: Oak Grove Mennonite Church 1818-2018."
This article appeared in The Daily Record, Wooster, on May 11, 2018
---
OG Celebrations Mark 200th Anniversary
by Pastor Doug Zehr on 2018-04-05
Oak Grove celebrations mark 200th anniversary
All are cordially invited to Oak Grove Mennonite Church's Historical Reflections Weekend, the first of three events marking the congregation's 200th anniversary.
The event will begin at 7 p.m. on Saturday, April 14, at Oak Grove Mennonite Church, 7843 Smucker Road, Smithville, Ohio.
A two-century timeline,

to be installed in the sanctuary, will be unveiled.
Sketches of God's Faithfulness, a historical booklet by Levi Miller, will be released.
In addition,

Jason Kauffman,

archivist of Mennonite Church USA, will speak on the importance of story.
A native of Dalton, Ohio, Jason Kauffman attended Orrville Mennonite Church during his youth, and graduated from Central Christian School and Goshen College. he earned a doctorate at the University of North Carolina, and now serves as Director of Archives and Record Management for Mennonite Church USA. He lives in Elkhart, Indiana, with his wife, Lisa Graber, and their three children.
Two other anniversary events are planned this year:
Musical Heritage, July 1-15 -->

piano recital with George Bixler, and hymn sing sampling hymnals used by the congregation during the 20th century;
Harvest Home Festival, Oct.13-14 --> Sunday school reunions, choral music program with Byron Kauffman, and worship with Mark Schloneger, guest minister.
---
Community Events
by Pastor Doug Zehr on 2018-03-09
To know and to be known is community.
What a blessing to live in a community of faith that is connected in so many ways to the Smithville community in which we live, work, study and play. We are blessed to be neighbors of the people and tied to the land of this community.

Oak Grove Mennonite has been rooted here for two hundred years. Established in 1818, the church is celebrating its Bicentennial this year.
It has been significant to us and important for us to participate in school, social and religious life. As teachers, staff, coaches, volunteers, business people, farmers, doctors, dentists, lawyers, store owners, and much more we have had opportunity to engage neighbors, family and friends. Community is important to us.
Oak Grove

Community Seed Exchange

is rescheduled
to Saturday March 17 at 3:00 p.m.
Bring seeds to trade or share with others - no money exchanged. Bulbs, house plants, gardening books and magazines, vases, as well as local gardening wisdom and lore are welcome. Exchange will happen in our Fellowship Center.
On April 28 at 10:00 a.m. we will hold our annual
in the Oak Grove Church parking lot
at 7843 Smucker Road just east of Smithville.
Neighbors near and far are welcome!
---
Discovery: A Comic Lament
by Pastor Doug Zehr on 2018-02-27
Discovery: A Comic Lament, is coming to Oak Grove Mennonite Church, 7843 Smucker Rd, Smithville, OH on Sunday, March 4, 2018 at 4:00 pm.
Admission is free and is open to the public!
Sponsored by Area Mennonite churches, including First Mennonite Church Wadsworth, Oak Grove Mennonite Church, Summit Mennonite Church, Orrville Mennonite Church, Crown Hill Mennonite Church, and Wooster Mennonite Church (in no particular order.)

The play, starring Ted Swartz and Michelle Milne, and produced by Ted & Co TheaterWorks, is about the Doctrine of Discovery, the legal framework that justifies theft of land and oppression of Indigenous Peoples. It finds unexpected humor at the crossroads of justice and land use, offering both comic and challenging glimpses into the absurdity of white settler oppression of Indigenous Peoples and the land we live on. A show about love, and loss, of land, Discovery nudges us to question our stories with honesty and integrity.

What happens when we find out there is a problem with the ground under our feet? When we acknowledge that the land we want to reconnect with was violently and unjustly emptied of indigenous peoples? When we learn about their continued oppression? And, what is our role, as people of faith, and inheritors of a system of land ownership based on theft?

This is a play about a big, foundational problem: how the land under our feet came to be under our feet. And it is about learning to face that problem with the energy that only shared laughter can create, so that we can move forward.

Produced by Ted & Co, written by Alison Brookins, and directed by Phil Weaver-Stoesz. Created in partnership with the Dismantling the Doctrine of Discovery Coalition. Fiscal support through Mennonite Mission Network.
Admission is free and is open to the public!
-Pastor Doug (Adapted News Release)
---
Don't Be Afraid
by DJZehr on 2018-02-08
There is nothing quite like experiencing it for yourself. Despite starting the day with a delay on my flight out of Fort Wayne, and missing my connection in Chicago for Washington, D.C. I made my connection in Zurich.
The boarding lounge was nearly vacant and the plane bound for Nairobi was seemingly empty, confirming my worst fears. The security situation in Kenya was considered uncertain and people were taking the travel warnings seriously.
But I had felt God clearly challenge me to confirm my travel plans and keep my commitment to participate in the April sessions of the Christian Bible Institute(CBI). "I have commanded you to be strong and brave. Don't ever be afraid or discouraged! I am the Lord your God, and I will be there to help you wherever you go" (v.9). The uncertainties around the post-election violence at the beginning of 2008 which had challenged my original decision to postpone my teaching mission with the CBI of the Christian Church International, were subsiding. I was traveling with the confidence of my family and a supportive church community. I would keep their prayers close to my heart.
From my journal entry on the first day of my trip: "Fear of man will prove to be a snare, but whoever trusts in the LORD is kept safe" (Proverbs 29:25) – from Dad's Kenya Calendar, Day #1 (Maria). I receive this word today as a wonderful confirmation from God's word that I am safely in the palm of God's hand. My proclamation today is, "God is good, all the time, and all the time, God is good!"
Another note from a couple in the congregation added further encouragement: "As you travel (both going and returning) and your entire time of your trip, please know that we are committed to praying for your spiritual, emotional and physical safety. You are doing a great thing, and we trust our Lord to return you safely to us."
Not every day is life quite that intense. But thanks be to God for the power of prayer. As the hymn writer penned: "Sweet are the promises, kind is the word, sweeter far than any word man has ever heard."
Pastor Doug
---
Oak Grove Bicentennial 1818-2018
by Pastor Doug Zehr on 2018-01-08
In light of our bicentennial celebration our general theme for 2018 is "Great is Thy Faithfulness" We are planning three major weekend events to mark the occasion:
April 14-15, 2018 – Historical Reflections
July 15, 2018 – Hymn Sing & Hymnal Celebration
October 13-14, 2018 - Homecoming & Concert
More detailed information about the events of each weekend can be found under the Bicentennial tab on our home page.
We will kick off our bicentennial celebration with an introduction this Sunday, January 14 at 10:30 a.m. with the theme - "From Generation to Generation." Then between the April Historical Reflections weekend and the October Homecoming weekend we will focus on "The Values that Characterize Oak Grove!"
Great is Thy Faithfulness
Oak Grove Bicentennial 1818-2018 Theme
Introduction to Our Year of Celebration:
Sunday, January 14, 2018
"From Generation to Generation: Legacy Received"
-Doug Zehr, Pastor 2009 – Present
Psalm 145:4 One generation shall praise Your works to another.
Psalm 79:13 "from generation to generation we will recount your praise.
Relentless . . . On and on . . . Time marches on. Sometimes soft as gently falling snow, sometimes overwhelming like a snow "bomb cyclone" bearing down on us.
Life begins as a babe; life ends at old age – we think.The Psalmist gives us some perspective in Psalm 145:4 "One generation shall praise Your works to another" and in Psalm 79:13 "from generation to generation we will recount your praise." We are part of God's activity in the world. No one who came before us was indispensable. His or her time to be born, to live, to love, to teach made an impact, but it has come and gone! Their contribution has made a connection.
Today, my time has come. Today, your time counts. It is our time to live and serve. Today is our opportunity to declare the great faithfulness of God as we have received it from a passing generation and share it with a coming generation. We will do our part. We will share our dreams, aspirations, goals and gifts to keep the praise of God's works moving from this generation to the next.
-Doug
---
Advent 4 Pondering
by Pastor Doug on 2017-12-21
ADVENT PONDERING 4
We are all too aware of how much our world needs shalom. Last Sunday we considered how Mary proclaimed a radical realignment of the social order where all can experience shalom.
While we often get caught up in our comparisons with those that have more than we have, most of us are among those who have more than many in our world. So after some reflection on Mary's vision of realignment, how have you responded to the call for a more socially just society? To bring shalom?
This week's readings remind us that God is working his purpose out, using the likely and unlikely—kings, but also the humble, seemingly insignificant, the lowly—to fulfill God's mission.
As Christians, we are part of God's mission of reconciliation. We want to look around and see where God is at work, and then take the opportunity to entering in. It may call us to let go of our insecurities and insufficiencies and allow God to use us as channels of the good news?
We may be tempted to hold fast to the comfortable - the way it has been for us. We hold on to the familar since we somehow have to pay the bills. But God keeps calling, and perhaps surprisingly to many of us, that call is often answered by the least among us . . . a barren Hannah, a young David or an innocent Mary! Humble and ordinary folks who hear and believe, and further God's reign on earth.
Down through the ages many have joined in with Mary, "Here I am, the servant of the Lord, Let it be with me according to your word!"
Yes! Let it be NOW!
-Doug
---
Avent 3 Anticipation
by Pastor Doug Zehr on 2017-12-11
ADVENT 3 Anticipation

On this past Sunday we acknowledged that all of us experience the need for comfort, whether our difficulties are of our own making or are circumstances which are thrust upon us.
The messianic hope in the writings of Isaiah found its fulfillment in Jesus of Nazareth. The New Testament writers understood this clearly, as have artists throughout the history of the church.
This coming Sunday, December 17, here at Oak Grove at 2:30 p.m., the rafters will echo with the music of the Messiah - as a nearly one hundred voice choir will present Handel's artistic interpretation of this great messianic hope.
How have you experienced God's comfort in the midst of hardship?
How are you drawing on God's comfort now?
Can you declare,"God has done it before (for me)?" (Isaiah 64:1-9)
"God will do it again (for me)?" (Mark 13:24-37)
"Indeed, God has already begun the process (in me)?" (1 Cor. 1:3-9)
Our 10:30 a.m. worship service, "LET IT BE WHOLE," will focus on the vision Mary paints in the Magnificat, as found in the Gospel of Luke 1:46-55, a vision of shalom—peace, wholeness or well-being— for everyone.
This vision seems to be illusive on a personal and global scale. We recognize we cannot achieve this on our own. We are God's vessels through which "God's love, joy and peace can flow . . . to the world."
How are you a channel of God's love, joy and peace this Advent?
-Pastor Doug
---
Exhausted . . . But Happy
by Pastor Doug Zehr on 2017-12-05
Exhausted . . . but happy! Extremely Happy.
Sunday evening was the 29th annual presentation of the Search for the Christ Child at Oak Grove. With a very pleasant super moon lit night we hosted more than 500 visitors. With a hundred people involved in the set up and presenting of the old, old story, it is a remarkable community building event. But probably what is most remarkable is that most of the participating presenters stick around to clean up and store all the props and costumes. It truly proves the point that many hands make light work.
So it is a big day at the Grove. I was exhausted. My day started early with two presentations in worship services to mark the being of the Advent season. In Advent 1 we acknowledged the darkness in our world.
What areas of darkness are you facing? Where might you find hope in the darkness?
Can you declare,
"God has done it before" (Isaiah 64:1-9);
"God will do it again" (Mark13:24-37).
"Indeed, God has already begun the process" (1 Corinthians 1:3-9)!
As the Advent season continues, may you be encouraged, like Mary, to take the leap of faith and answer with her, "Let it be!" God has your back. God is present, even in the darkness. It is an old, old story of Good News!
On a side note, I was recently reminded that if at the beginning of December, you're remembering about your 2017 New Year's resolution to read the Bible this year, just over 38 chapters a day would still bring you over the finish line.
However, since it only takes 72 hours to read through the Bible out loud, you could wait to start on the 29th and finish by the close of the year.
--Douglas J. Zehr
---
HARVEY
by DJZehr on 2017-08-30
We pray, "Lord, have mercy on all those affected by Harvey - whether that is Hurricane Harvey, Tropical Storm Harvey, Tornado Harvey, Lightening Harvey, Flood Harvey, Straight Winds Harvey, Rain Harvey, or Lights Out Harvey! Lord, may your people rise up even faster than the flood waters. Lord have mercy!" Amen.
We thank God for all the First Responders, Volunteers and the many organizations providing immediate relief. May God keep them all safe.
Mennonite Disaster Service (MDS) is on the ground in Texas evaluating the situation to see where they will focus resources to assist. We expect MDS to be involved long term. Up-to-date information about those efforts can be secured at www.mds.mennonite.net

Oak Grove Mennonite Church will support those efforts. We expect that we will have indvidutals and team(s) that will join the efforts to RESPOND! REBUILD! RESOTE! Any donations marked for HARVEY RELIEF will be honored through MDS. Worship participants can contibute to the offering. Anywone can send your check to the Oak Grove Church office at 8743 Smucker Rd., Smithville OH 44677.

---
Keep the Faith
by Pastor Doug on 2017-08-16
The past week started with tweets that taunted dangerous players on the world stage, the president continuing to play with fire. The week ended with racist taunting on the streets of America. I believe that there is a connection. And it continues to flow on.
What happened in Charlottesville, VA last weekend was evil. It was not "an egregious display of hatred, bigotry and violence on many sides, on many sides."
Hundreds of white men bearing torches and chanting and shouting slurs is racism clear and simple . . . It is religious extremism . . . and it is bigotry. It is a provocative effort on the part of very privileged folks to foment racism and hatred, and create violence.
It does not represent the America I know.
It is a cancerous growth which represents the absolute worst of who we are.
It certainly does not represent Jesus.
May God have mercy. May God have mercy.
-- Doug
Douglas J. Zehr, Pastor
Oak Grove Mennonite Church
-
---
Yes, This is Racism
by Guest on 2017-08-13
Today I share this important message written by John Pavlovitz:
As a writer and pastor, my job is to weave together words so that those words will hopefully reach people in their deepest places; to frame the experience of this life in a way that is somehow compelling or creative or interesting, causing them to engage with the world differently than before.
But there are times when to do this would be actually be a disservice to reality, when any clever wordplay would only soften the jagged, sickening truth; when clever turns of phrase might succeed in obscuring the horrid ugliness in front of us.
Sometimes we just need to say it without adornment or finessing.
What we've watched unfolding in Charlottesville, with hundreds of white people bearing torches and chanting about the value of white lives and shouting slurs, is not a "far Right" protest. When you move that far right, past humanity, past decency, past goodness—you're something else.
You're not a supremacist, you're not a nationalist, and you're not alt-Right.
This is racism.
This is domestic terrorism.
This is religious extremism.
This is bigotry.
It is blind hatred of the most vile kind.
It doesn't represent America.
It doesn't represent Jesus.
It doesn't speak for the majority of white Americans.
It's a cancerous, terrible, putrid sickness that represents the absolute worst of who we are.
No, naming it won't change it, but naming it is necessary nonetheless. It's necessary for us to say it—especially when the media won't, when our elected leaders won't, when our President won't. It's necessary to condemn it so that we do not become complicit in it.
This is our national History being forged in real-time, and to use words lacking clarity now would be to risk allowing the ugliness off the hook or to create ambiguity that excuses it. And yes, there are all sorts of other ways that racism and privilege live and thrive; ways that are far less obvious or brazen than tiki-torch wielding marches. There are systemic illnesses and structural defects and national blind spots that we need to speak to and keeping pushing back against, and we will. But in moments that are this clear, when the malignancy is so fully on display—we'd better have the guts to say it.
White people especially need to name racism in this hour, because somewhere in that crowd of sweaty, dead-eyed, raw throated white men—are our brothers and cousins and husbands and fathers and children; those we go to church with and see at Little League and in our neighborhoods. They need to be made accountable by those they deem their "own kind." They need to know that this is not who we are, that we don't bless or support or respect this. They need white faces speaking directly into their white faces, loudly on behalf of love.
Though all of us can eventually trace our lineage back to oneness, all carrying a varied blood in our veins—the surface level differences matter to these torch-bearers. They value white lives and white voices above anything else, and so we whose pigmentation matches theirs need to speak with unflinching clarity about this or we simply amen it.
So I'm saying it.
We are not with you, torch-bearers, in Charlottesville or anywhere.
We do no consent to this.
In fact we stand against you, alongside the very beautiful diversity that you fear.
We stand with people of every color and of all faiths, people of every orientation, nationality, and native tongue.
We are not going to have this. This is not the country we've built together and it will not become what you intend it to become.
Racism and terrorism will not win the day.
Believe it.
---
Singing a New Song
by DJ Zehr on 2017-01-14
He put a new song in my mouth, a song of praise to our God. Many will see and fear, and put their trust in the Lord. – Psalm 40:3
Read: Psalm 40:1-11
Reflect: It was only a small church planting group, but all the members were residents of the close-knit rural community and were highly committed. Neighborhood connections facilitated many face-to-face relationships. One neighbor assisted another, whether it was a support group, field work, child care, children's programming or community youth activities. The testimony of one community resident was: "I don't know much about that church, but what I do know, is that if I went there, I would be welcome."
With the writer of Psalm 40, our community was experiencing the missional work of life experience with intentionality. When the LORD does a work in one's life, there is a "new song in my mouth" and "Many will see and fear, and put their trust in the Lord." That work and its evidence with a "new song" have a missional purpose – establishing God's community – a family of God in a biblical tradition. God is calling all people into community.
It took time to recognize, but as we "waited patiently" the LORD was "inclined to me (us) and heard my (our) prayer . . . drawing me (us) up . . . setting my (our) feet" on a solid footing (v.2). Being established with "a new song" illustrates the work of a missionary God, with a vision to gather and include those who have not heard, so that "Many will see and fear, and put their trust in the Lord." It has been said, 'it is not a matter of being a church with a mission, but serving a God whose mission has a church.'
-D.J. Zehr
Response: The work is Thine, O Christ our Lord, the cause for which we stand; And being Thine, 'twill overcome its foes on every hand.
---
Singing with Full Voice
by DJ Zehr on 2017-01-09
They numbered myriads of myriads and thousands of thousands, singing with full voice, "Worthy is the Lamb" – Revelation 5:11b&12a
Read: Revelation 5:11-14
Reflect: I was taken by surprise. As the family gathered to discuss the details of the funeral service, in unison the adult children declared, "Dad doesn't want any singing! He didn't like to sing." As a relatively new pastor in this community, I was surprised to learn that the dearly loved deceased brother of this faith family, who had demonstrated such a cheerful, outgoing and caring spirit, had made such a request. While my immediate pastoral response was to honor the request, we talked about what the extended family and gathered community might need in a service of worship in which we are able to say our good byes and honor their dad's life. I was able to eventually chide the family, "Your dad may be surprised since the insights that John shares in the Revelation indicate a lot of singing going on in heaven."
John's glimpse into heaven revealed "Then I looked, and heard the voices of many angels . . . myriads of myriads and thousands of thousands, singing with full voice," (v.11-12). The scene continues, "Then I heard every creature in heaven and on earth and under the earth and in the sea, and all that is in them, singing, (v.13). John had already shared his first glimpse of heaven's activity around the throne: "Day and night without ceasing they sing" (4:8) and "They sing a new song" (5:9).
We believed and agreed together that our departed loved one would be joining the heavenly crowd gathered around the throne. We just had to sing. Thanks be to God!
-D.J. Zehr
Respond: To the one who sits on the throne and to the Lamb be praise and honor and glory and power, forever and ever!
---