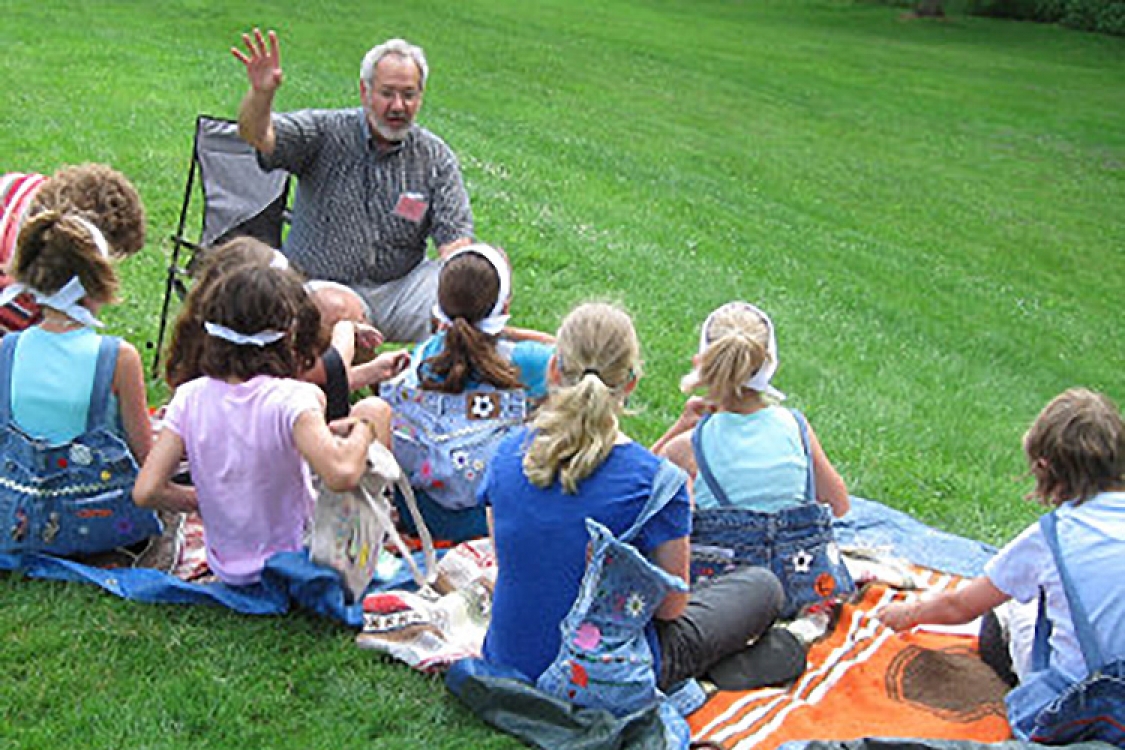 Children's & Youth Activities
Oak Grove Mennonite values the children and youth who are part of our church family and take our responsibility seriously of providing a loving and nurturing environment for them to come worship and learn in order to know and love Jesus.
Parents are invited to dedicate themselves to the task of nurturing their children in the Christian faith and the church community pledges to join them in that task. Our goal is to support and encourage parents in their task of planting seeds of faith that we pray will grow and produce a life of faith and trust in God.
Our Sunday morning programming provides activities for both Worship and the Christian Education hour. Additional activities are also provided beyond Sunday morning.
There is a staffed nursery for infants and toddlers.
Children's worship bulletins for two different age groups are offered each Sunday.
Children's activity bags are provided for worship services.
Junior Church ( for children age 3 through Grade 3) meets during the sermon time for their own worship and activity time two Sundays each month. On other Sundays a children's time is offered during the worship service in which children of all ages are invited to participate.
Christian Education for Children and Youth
Nursery
Each Sunday the nursery is staffed during Sunday School for infants and toddlers.
Sunday School classes are provided for children ages three and up. Classes meet from 9:20 a.m. to 10:20 a.m. Music is provided for each class from 10:10 to 10:20 a.m. Children play bells and sing for the worship service several times each year.
Ages 3 through Grade 1
Through a three-year curriculum cycle, children are exposed to the Bible stories in both the Old and New Testaments. Children are invited to participate in a variety of interest centers in their large meeting space. A Bible story, music, craft and activities are provided.
Grades 2 through 5
Through a three-year curriculum cycle, children are exposed to the Bible stories in both the Old and New Testaments. A variety of teaching styles are used to make the stories come alive and be relevant to them.
Junior Youth (Grades 6, 7 & 8)
The Junior Youth explore the Bible and topics relevant to their life and faith development through a guided curriculum.
MYF (High school-Grades 9, 10, 11 & 12)
The High School youth meet in the MYF room. They explore the Bible and topics relevant to their life and faith development through a guided curriculum.
Beyond
Oak Grove has programming and activities for children and youth beyond Sunday morning.
Two-year-olds are given a CD with children's Bible songs. In this way, we help our littlest ones to hear the words in music that will begin to lodge in their hearts and minds, even at an early age.
First graders are presented with a Bible to help them begin to discover and read on their own the core of our faith and belief in God's story and His Son, Jesus.
Vacation Bible School
Each summer Oak Grove Mennonite offers a Vacation Bible School program which includes Bible storytelling, worship, music, recreation and snacks. A mission project is chosen for the offerings children are invited to bring. This is fun-filled, energetic week of Bible learning and activity.
Our 2018 edition of VBS, in partnership with area Mennonite Churches
- "Shipwrecked: Rescued by Jesus" -
will be hosted by Orrville Mennonite Church, 1305 W. Market St., Orrville.
Sunday, July 29 to Thursday, August 2 from 6:00 to 8:30 p.m.

An information package is available for those who preregister.
To Register your child (ren) go to REGISTER NOW
Junior Youth
Adolescents in grades six, seven and eight are invited to participate in monthly activities that include Bible studies, service projects and social events. They are led by two adult sponsors who oversee the planning and activities. Each summer they do an out-of-town service project, usually several days in length. The Junior Youth are also involved in worship services and church events in a variety of ways.
MYF (Mennonite Youth Fellowship)
Youth in high school (grades 9 through 12) meet weekly for activities that include Bible study, service projects and social events. Every other year they participate in the Mennonite Church USA Youth Convention which meets for a week in a major US city. The other year they usually participate in an out-of-town service project. Throughout the year they do fundraising projects to help pay for the expenses of their trips. Adult sponsors oversee the planning and supervising of the activities. Our youth are also involved in worship services through music, drama and scripture reading. They are ushers for the worship service once a month.
One on One
When youth begin high school, they are invited to choose an adult mentor. Oak Grove coordinates a One on One program which gives guidance to adults who are teamed up with youth as well as providing regular opportunities for mentors and mentees to meet together as a group. These adult mentors are encouraged to meet with their youth regularly and develop a caring relationship. The mentor is also privileged to participate in a mentee's baptism, should that occur during this time.
Church Camps
Oak Grove is affiliated with two church camps: Camp Luz, Kidron, OH, an Ohio Conference sponsored camp and Camp Friedenswald, Cassiopolis, MI, a Central District Conference sponsored camp.
Children and youth are encouraged to attend a week of summer camp. Partial camp scholarships are provided for each person to have one camp experience each year. Applications need to be made to the Education Commission. The Outreach Commission also provides partial camp scholarships for community children.
Church Library
Oak Grove has a church library that provides both print and media for borrowing. Children's, youth and adult books, church periodicals, CD's, DVDs and other materials are available. Resources for Sunday School teachers and parents are also available.